The City Beautiful Movement of the 1890's and early 1900's not only influenced Washington DC and Chicago, but also Philadelphia. The movement came about as a reaction to the physical decay and congestion of America's urban centres. Architects Danile Burnham and Andrew Jackson Downing were influenced by projects in Europe such as Vienna's Ringstrasse, Baron Haussmann's redesign of Paris and Idefons Cerda's work in Barcelona. The goal was to create urban areas with "wide boulevards,ennobling buildings and manicured parklands to allow people of all backgrounds spaces for reflection and recreation."
After the Civil War, the city of Brotherly Love had grown to 700,000 people. Its factories, refineries and shipyards emitted significant amounts of pollution which called for a beautification of the city. Environmental groups like the City Parks Association and the Garden Club of Philadelphia campaigned for grand Beaux Arts architecture, boulevards in North Philadelphia, a city wide playground system, a park along the Schullkill River and a system of radial boulevards for South Philadelphia similar to Washington DC's.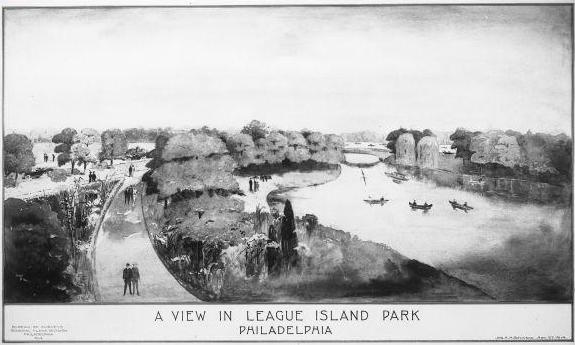 Local architects Albert Kelsey and David K. Boyd proposed the clearing of two city blocks to make Independence Hall, the original city of the Capital, more visible. While it took decades, the resulting Independence Mall came to fruition after World War II. A Parisian style parkway connecting Center City and Fairmount Park got underway in 1907. The City Parks association created League Island Park in 1912. Today it is called FDR Park. By 1930, much of Fairmount Parkway, which included the Free Library, Rodin Museum, Municipal Court, Logan Circle and the Philadelphia Museum of Art was completed or under construction.
Independence Mall circa 1952 courtesy https://en.wikipedia.org/wiki/Independence_Mall_(Philadelphia).
Washington Square was beautified with statuary and refurbished fountains thanks to the Philadephia Fountain Society. Two high rises, Penn Mutual and the Curtis Buildings, reflected "City Beautiful sensibilities". In 1933, Alfred P. Shaw designed 30th Street Station in the Neoclassical/Art Deco Design, commissioned by the Pennsylvania Railroad.