Berlin Olympics torch relay courtesy i.telegraph.co.uk.
The 1936 Berlin Olympics saw the debut of the torch relay, television coverage and basketball. But the game would look quite different than the one we know today. It would be played on an outdoor tennis court, with a much lighter ball and with different rules.
Dr. James Naismith invented basketball back in 1896. The sport was demonstrated already at the 1904 Olympics in St. Louis and the 1924 Olympics in Paris. But it was not until the 1936 Olympics that it became an official Olympic sport.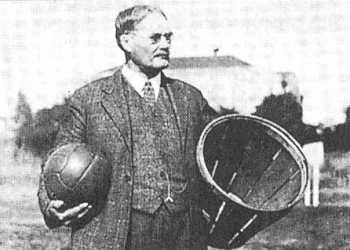 Dr. James Naismith, inventor of basketball, courtesy myhero.com.
The Long Island University Blackbirds, the best college team in the United States, boycotted the Olympics due to Hitler's anti-Semitic policies. So, it fell to the McPherson Globe Oilers from Kansas and the Universal Pictures players from California to pick up the slack. The fourteen players were expected to pay their own way to New York City with the warning that they might not have a job waiting for them when they returned. Still, all but one of the players made the trip, boarding the S.S. Manhattan in July of 1936.
Arriving it Berlin, the Americans were surprised to find out that the Spanish team did not show up due to their civil war. Their first game was therefore forfeited. The Americans went on to beat Estonia, the Philippines and Mexico.
Gold medal match between U.S. and Canada courtesy sain.scaa.sk.ca.
The final game would pit the Americans against the Canadians. Only a thousands spectators stood in the rain as there were no bleachers. The clay and sand tennis court turned into a mud pit after the heavy downpour. American coach protested the rule that said no one could play who stood over 6 foot 2 inches tall. The Olympic Committee agreed to waive the restriction.
Once the whistle blew to start the game, the players soon realized that they couldn't even dribble the light ball on the muddy "court". At halftime, the Americans led the game 15 to 4 against the Canadians. Baskets were few and far between. The final score was 19 to 8 for the United States. Dr. James Naismith himself handed out the gold medals and laurel wreaths to the Americans. The Canadians had to settle for silver.
American basketball team courtesy www.usab.com.