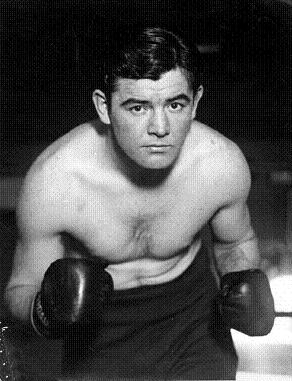 artofmanliness.com
In the mid-1930's James J. Braddock was down on his luck. The former boxer had never completely recovered from the broken hand he suffered in his last fight. It was the Depression and he was out of work. He was asked to return to the ring to fill in for a last minute cancellation. His opponent would be Number 2 contender Corn Griffin. Did he still have the goods?
James Braddock, an Irish-American, was born and raised in Bergen, New Jersey. He started boxing at the age of 21 and soon made a name for himself by winning dozens of fights. However, in 1929, he lost the heavyweight title to Tommy Loughran in a 15 round bout during which he broke his right hand. With his hand injured, James was forced to seek other work.
James found a job as a longshoreman on the docks, where he learned how to use his left hand. However, the work was sporadic during the Depression and the family man was forced to seek financial relief from the government, something the proud pugilist was loathe to do.
Opportunity knocked when Braddock had the chance to face Corn Griffin in the ring. But Mrs. Braddock feared her husband would incur another serious injury. Even so, James felt like he couldn't turn down the prize money and went ahead with the fight, winning in a third round knockout. Braddock was back! With Gould as his manager, and with a strengthened left hand which gave him an edge, the boxer was ready for a comeback. Reporter Damon Runyon dubbed him "Cinderella Man". He started to win bout after bout. And with his prize money he paid back the government.
In 1935, the "Bulldog of Bergen" had the opportunity to fight Max Baer, a boxer who had reportedly killed two men in the ring. Braddock's wife, Mae, was terrified at the thought of her husband becoming Baer's third victim. Braddock faced 10-1 odds. Still, he went ahead with his training. The event was set for June 13, 1935 at Madison Square Garden Bowl. Mae refused to buy a ticket or even listen to the match on the radio.
Braddock arrived at Madison Square Garden well prepared on fight night. Baer, on the other hand, did not take his opponent seriously. In a 15 round bout, Braddock beat Baer and claimed the title of heavyweight champion. With his winnings, he bought a house for Mae, a house they would live in for the rest of their lives.
The Bulldog of Bergen boxed many more successful bouts before retiring from sport. He later served in the Army during the Second World War. In the 1960's, he put his muscles to good use when he helped build the Verrazano Bridge. He passed away in 1974.
medialib.glogster.com