When good Americans die, they go to Paris.
(Oscar Wilde)
faithnewspolitics.blogspot.ca
When Parisians blew out 2000 candles on July 8, 1951, to celebrate their city's birthday, they marked it with competitions, historic cavalcades and costume balls. The City of Lights was lit up like never before. Let's take a look at the city known for its food, fashion, fine arts and fabulous architecture.
Paris circa 1951 courtesy craighill.net.
Paris grew out of a Gallic settlement started by the Parisii tribe on the Ile de la Cite in the Seine River around 250 BC. Julius Caesar and his followers took over the area which was Christianized. It was named Lutetia which means mid-water dwelling in Latin. The settlement spread to both sides of the Seine, the left bank becoming known for intellectualism, the right for business. By 987 AD the settlement was renamed Paris. Its freshwater source made it a good trade route. Despite invasions by the Vikings and other barbarians, the city remained intact.
Palace of French Kings on Ile de la Cite courtesy www.parisdigest.com.
By 1200, Paris was already home to 57 fashion houses, setting trends for the rest of Europe. Dressmakers protested outside the constabulary and rules were reformed to make working after dark illegal in the fashion houses.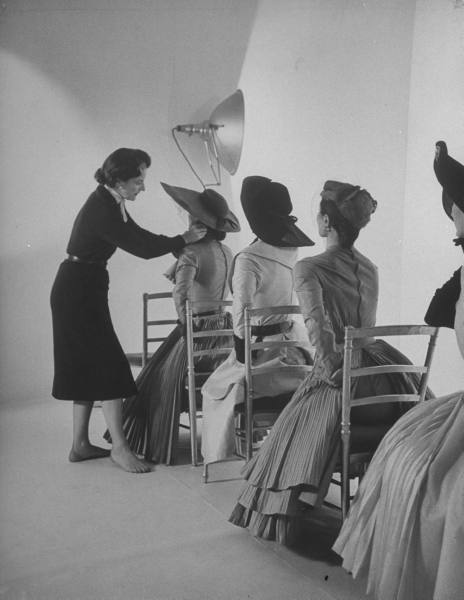 Fashion Week 1951 courtesy www.messynessychic.com.
In 1410, young men would gather at the Saint Germain des Pres Church, now the oldest building in Paris, to discuss art and politics. By its 2000th birthday, existentialists, like Jean Paul Sartre, gathered there for the same purpose.
Jean-Paul Sartre circa 1951 courtesy upload.wikimedia.org.
Paris also led Europe in its cuisine centuries ago. The Tour d'Argent, the city's most popular restaurant by 1951, was established by King Henry II. Customers were given a new invention called a "fourchette" to eat their food with.
La Tour d'Argent overlooking the Seine River courtesy www.billionaire.com.
Bistros and cafes, however, have been a more recent invention, first appearing about 300 years ago. Pilgrims would flock to Montmartre, a church on a hill, where they would be given a free glass of wine. THe pilgrims became so plentiful that shops were opened where they charged for the wine. Cafes opened up where artists could sip on a new drink called coffee.
Paris sidewalk cafe courtesy pinterest.com.
King Louis XIV gave Paris the invention of street lights while King Louis XVI wrote in his diary on the first day of the French Revolution in 1789: "Nothing to report today..." Napoleon III hired architect Georges-Eugene Hausmann to modernize The City of Lights. Hausmann introduced wide-tree lined boulevards, public parks and sewers.
The Champs-Elysees circa 1900 courtesy pininterest.com.
Within a decade, the Impressionists like Monet and Renoir were painting in these Paris boulevards and parks. Within a generation, the Eiffel Tower was erected. And during the Second World War, despite occupation by the Nazis, much of Paris remained intact.
German soldiers march past the Arc de Triomphe circa 1940 courtesy upload.wikimedia.org.
Today 2 million people call Paris home. Another 10 million live in the surrounding area. The city still sets the standard for food, fashion and culture. It is one of the most popular tourist destinations given its sights: the Eiffel Tower, the Notre Dame Cathedral, the Louvre. Happy Birthday, Paris!
The City of Lights courtesy upload.wikipedia.org.