It was 150 years ago today that the Battle of Gettysburg was staged. Lasting for three days, the battle incurred the most casualties of the Civil War. With an eventual victory by the North, the conflict would serve as the turning point in the war.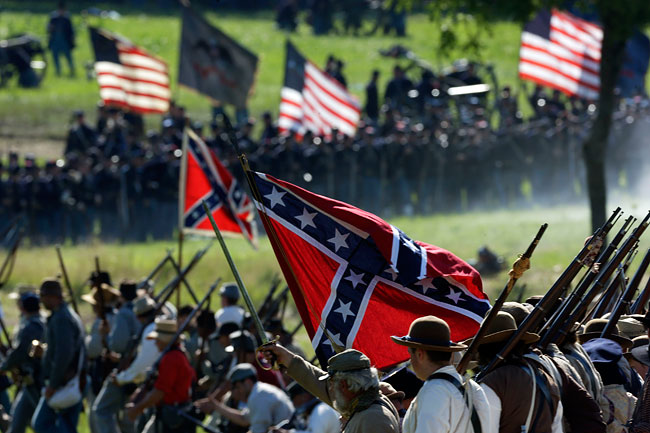 Photo courtesy images.publicradio.org.
By mid-1863, America was in the throes of the Civil War. General Lee decided to take Army of Virginia northward to Pennsylvania for three reasons: firstly, to get away from war-ravaged Virginia; secondly, to gather much needed supplies from the abundant Pennsylvania farmland; and thirdly, to win a major battle on Northern soil.
General Lee courtesy www.civilwar.org.
So, it was in Gettysburg that General Lee's Army of Virginia met up with General Meade's Army of the Potomac. On Day 1 of the battle, 30,000 Confederates beat 20,000 Yankees in battles like McPherson's Ridge, Oak Hill, Oak Ridge, Seminary Ridge and Barlow's Knoll.
Seminary Ridge courtesy i1.trekearth.com.
On Day 2 of the battle, the Union defended a fishhook shaped range of hills south of Gettysburg. An army of 90,000 Union soldiers fought 70,000 Confederate soldiers in places like Little Round Top, Wheatfield, Devil's Den and Peach Orchard. While the South gained ground, the North still held a strong position.
Little Round Top at sunset courtesy www.civilwar.org.
On Day 3 of the battle, General Lee led 12,000 soldiers in the Pickett's Charge. Repulsed by the Union, the Confederacy suffered heavy losses. General lead retreated with his troops back to Virginia.
Pickett's Charge courtesy www.civilwar.org.
More than 30,000 dead or wounded soldiers were left in the battle's wake. Heavy rain followed on July 4, hindering efforts to rescue the injured and retrieve the dead. A famous photograph from July 4 or 5 shows the Gettysburg hillside littered with fallen soldiers. It is estimated that between 46,000 and 51,000 soldiers were killed, wounded or captured in the three-day battle.
Fallen soldiers on the Gettysburg battlefield courtesy upload.wikipedia.org.
The momentum swung to the North after its victory at Gettysburg. It was four months later that President Abraham Lincoln visited the battle site to honour the war dead and to deliver his infamous Gettysburg Address (see my post "Four Score and Seven Years Ago" dated November 2011).
Virginia Monument at Gettysburg courtesy ranger95.com.
Source: www.civilwar.org.