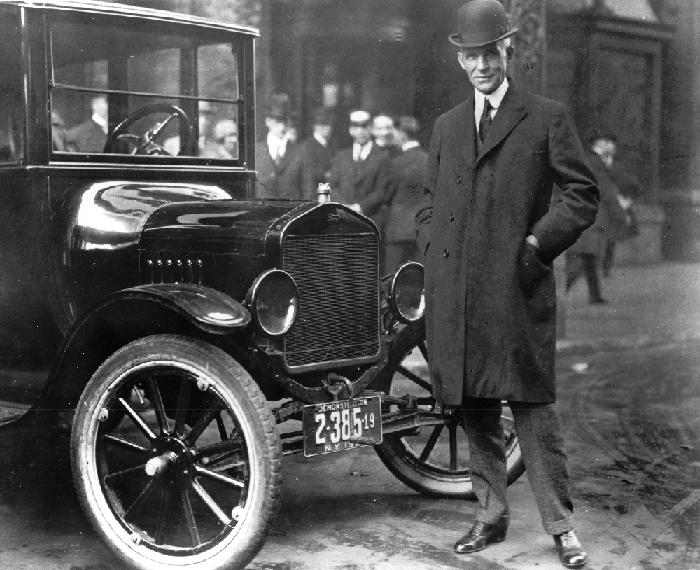 www.autolife.edu
In 1908, Henry Ford brought the car to the masses with his Model T. Previous to the Model T, the price of a car was far beyond the reach of the middle and lower classes. Henry Ford's $850 model put a car in many a driveway in America (see my post
http://alinefromlinda.blogspot.ca/2012/01/cars-in-driveways-chickens-in-pots.html
).
Similarly, in 1942, Georges Duplaix brought the children's picture book to the masses with the Little Golden Book. In the early 1940's, the average children's book cost $2.00 to $3.00. However, the advent of Little Golden Books, priced at 25 cents, put books on the shelves of many a home.
Georges Duplaix approached Simon & Schuster with an idea: how about a series of children's books that were affordable and durable? These books would be available not just in bookstores, but in grocery stores, drugstores and five-and-dime chains. Simon & Schuster went for the idea.
en.wikipedia.org
The series debuted with
The Poky Little Puppy
, a story about a family of puppies who dig a hole under the fence. It was followed by
The Shy Little Kitten
and
The Little Red Caboose
. Within the first five months, 1.5 million copies had been printed.
More titles followed by authors like Margaret Wise Brown, Richard Scarry and Eloise Wilkin. Topics covered included nature, science, Bible stories, nursery rhymes and fairy tales.
www.childrensclassics.com
As the decades passed by, the price remained low. It was not raised until 1962 when it went up a mere four cents a book more. By 1977, it was raised to 59 cents. By 1986 the price reached 99 cents. And by 2002, Little Golden Books' 60th anniversary, it finally reached $2.99, the price of children's books when the series premiered. But the quality of the books remained high.
Little Golden Books partnered with companies to help sell books.
Dr. Dan the Bandage Man
, published in 1951, was sold with a package of bandages.
Nurse Nancy
went hand in hand with
Dr. Dan
.
Little Lulu and Her Magic Tricks
, published in 1954, was sold with a box of Kleenex.
www.monstermarketplace.com
www.ebay.com
Little Golden Books brought big names into their series including: Lassie, Raggedy Ann, The Lone Ranger, Captain Kangaroo, Mister Rogers, Frosty the Snowman, Peter Cottontail and Sesame Street characters.
As of 2002, Little Golden Books has sold over 2 billion books. It has published over 1200 unique titles. For its 60th birthday, the company launched a boxed set of Little Golden Books Classics.
Note: For more information about Little Golden Books, visit the exhibit at the American History Museum at the Smithsonian Institution in Washington D.C. (Little Golden Books and American Culture 1942-1992). For the online exhibit, visit www.si.edu.
smithsonianmag.com