(Linda Jonasson)
In honour of National Cereal Day, today I am talking about cereal. For the first 16 years that my parents were married my Mom would make my Dad bacon and eggs for breakfast every day. After being raised in a home with three girls, my baby brother came along and my Mom would be up with him during the night. Baby number four was the last straw: from then on my Dad would make his own breakfast. That's when he started eating cereal every day. Our pantry would always be filled with cereal: Corn Flakes, Raisin Bran, Rice Krispies. My Dad's favourite was Bran Flakes. I soon became a cereal fanatic too. My day is not complete without my bowl of cereal. Here is how it all started.
Photo courtesy adrianmcqueen.blogspot.com.
Despite having only a sixth grade education, William Kellogg and his brother John Harvey started the Battle Creek Toasted Corn Flake Company in Michigan in 1906. Americans had been accustomed to eating heavy, fat laden breakfasts and now it was time to introduce a lighter, grain based breakfast choice. Using "corn grit" the Kellogg brothers made flakes of corn to which one could add cream or milk. With the invention of pasteurized milk, cold cereal became even more popular.
Photo courtesy www.atticpaper.com.
Originally each box was signed to make sure it was the genuine thing. By 1914, Kellogg's was offering "wraptite" plastic packages to keep the product fresh. A lady appeared on the box sniffing a stalk of corn nicknamed "The Sweetheart of the Corn". Billboards soon rose up in towns advertising the corn flakes. A children's art contest was held to determine what designs might be featured in future ads. Free samples were distributed. The Kellogg's brothers wanted to make a name for themselves.
Image courtesy www.kelloggshistory.com.
In 1909, rice flakes first appeared in America's general stores. Three years later, toasted wheat arrived. In 1915 bran flakes were first produced in the Kellogg's factory. No longer just making corn flakes, it was time for a new name for the company: Kellogg's.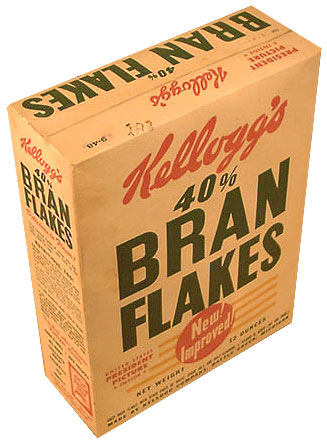 Image courtesy www.kelloggshistory.com.
With the start of the First World War, Kellogg's products first appeared on Canadian shelves. In 1917, to help support the war effort, the company formed the "Kellogg's Rifles", a marching unit. Ready to eat packages were distributed to hotels, hospitals and railway dining cars as a way to expand the market. By war's end, Kellogg's also appeared on shelves in Britain.
Photo courtesy discussions.mnhs.org.
Stating that he would "invest his money in people" William Kellogg started a company band in 1924. Four years later he financed the building of an airport in Battle Creek, Michigan. The 1930\s would see the formation of the Kellogg's Foundation.
The truck adverstises "Rice Bubbles" as they were known in Australia courtesy www.kelloggshistory.com.
Although the Depression hit America hard, William Kellogg decided to double his ads and sales went up! Rather than laying employees off, he reduced their hours and was able to keep everyone on his payroll. One marketing strategy the cereal pioneer started was having children mail in their Corn Flakes box tops; in return, he would send them a free gift.
Photo of Kelloggs Battle Creek Factory courtesy flickr.com.
In keeping with his theme of investing in people, Mr. Kellogg sent packages to the South Pole to feed Admiral Byrd and his expedition team. Furthermore, he shipped K-rations overseas to the American forces serving in the Second World War.
Photo of K-ration for soldiers courtesy en.wikipedia.org.
The Forties were also the decade the Kel Bowls first appeared. I remember my Mom buying those when we stayed at our mobile home in the summers in Grand Bend. You could poke the boxes and cut out two little doors, pour in some milk, and eat the cereal right out of the box. I also remember my Mom making Rice Krispies Squares recipe, which first appeared as "Rice Krispies Marshmallow Treats" in 1940.
Image courtesy walmart.com.
The Fifties saw Kellogg's expand even more. A large plant was opened in London, Ontario where our neighbour in Grand Bend, Mr. Pickering used to work. A new cereal called Special K first appeared along with Frosted Flakes. Tony the Tiger, one of the first cereal mascots, was featured on the cover. Sadly, William Kellogg passed away during this decade, but his legacy would continue.
Photo courtesy roadsideamerica.com.
The Sixties saw the introduction of Sultana Bran, later Raisin Bran. I remember the commercial: "Two scoops of raisins in a package of Kellogg's Raisin Bran!" Mini Wheats and Froot Loops also were introduced at the time. Toucan Sam was featured on the latter package. In keeping with the tradition of investing in people, it was Kellogg's cereal that astronauts Neil Armstrong and Buzz Aldrin ate on the moon in 1969.
Image courtesy designshack.net.
Toasters popped up pop tarts for the first time, named after pop art, in the 1960's.
Image courtesy flickr.com.
The Eighties saw the production of Crispix and Just Right.
Image courtesy en.wikipedia.org.
Kellogg's celebrated their 100th anniversary in the 2000's. They now make several products including Nutri-Grain bars. But it all started with two brothers and a cornflake.
Source: alinefromlinda.blogspot.ca