Tollhouse Inn photo courtesy theaesthetecooks.files.wordpress.com.
A Cape Cod style tollhouse opened in 1709 located between Boston and New Bedford, Massachusetts. Travellers stopped there where they paid a toll, changed horses and ate home cooked meals.
Over two centuries later, Kenneth and Ruth Wakefield purchased the building and opened the Tollhouse Inn. Mrs. Wakefield cooked delicious meals for her guests. One day in 1937, she made her favourite Butter Drop Do cookies. She had no baking chocolate and therefore substituted a Nestle chocolate bar which she broke into small pieces. Rather than melting like the baking chocolate, the pieces stayed intact. Serving the biscuits to her guests, Mrs. Wakefield received rave reviews.
Nestle chocolate bars started selling like hotcakes. The tollhouse cookie recipe was published in a Boston newspaper. Nestle even printed the recipe on the back of their chocolate bars and started scoring the bars to make them easy to break up for baking. The company also offered an unlimited lifetime supply to Mrs. Wakefield in exchange for her recipe. Finally, in 1939, Nestle started making the first chocolate chips, tiny morsels sold in packages.
Photo courtesy www.examiner.com.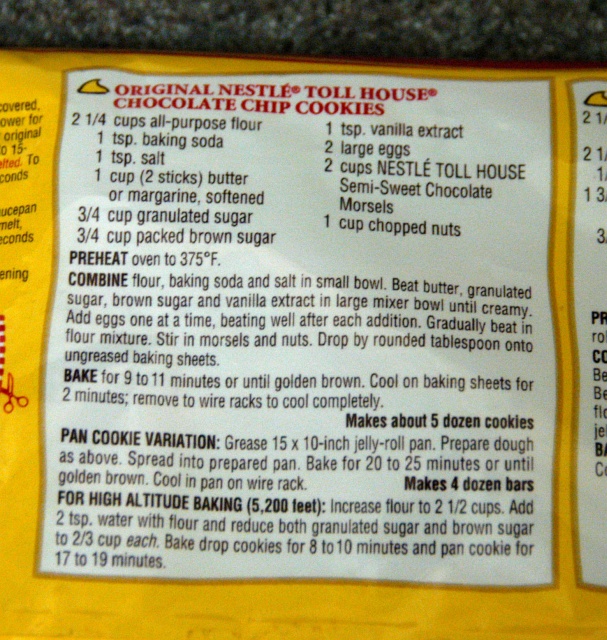 Original recipe courtesy www.cookingforengineers.com.