In honour of my Mom's birthday, I am blogging about Bette Davis today, after whom my Mom was named.
My Grandad Stroud liked movie stars and therefore named his first daughter Marlene, after Marlene Dietrich, and his third daughter, Sandra Vivien, after Vivien Leigh. His fifth daughter would be Heather Yvonne (Yvonne DeCarlo). Mom was his second daughter.
Photo courtesy imgix.8tracks.com.
Nicknamed the "First Lady of the American Screen", Bette Davis starred in over 100 films. She won two Oscars and was adored by many fans. However, she was as dramatic off screen as on. She feuded with Joan Crawford on the set of "Whatever Happened to Baby Jane" in 1962. At home she feuded with each of her four husbands, leading to three divorces (the other husband died). She also fought with her daughter, B.D. Hyman, leading the latter to write a tell all book about her mother. Nonetheless, Bette Davis left her mark on Hollywood.
Ruth Elizabeth "Bette" Davis was born in 1908 in Lowell, Massachusetts. She had light brown hair and saucer-like blue eyes which would be talked and even sung about for decades to come ("She's Got Bette Davis Eyes" by Kim Carnes). She and her sister Barbara lived at home until she was 10 years old when their father left at which point their mother enrolled them in boarding school. While Miss Davis was known as Betty as a child, she changed the spelling to Bette (pronounced bet) as a teenager after
La Cousine Bette
by Balzac. My Mom also hated the pronunciation Betty and always preferred Bette (as her name was spelled).
Photo courtesy 2.bp.blogspot.com.
The young Bette Davis arrived in New York City in the late 1920's and attended acting school with Lucille Ball. She appeared in the play "Broken Dishes" on Broadway in 1929. In 1930 she moved to Hollywood. She starred in the film "The Bad Sister" (1931). Soon she was typecast as a bad girl and became known for her forthirght personality, clipped vocal style and uibiquitous cigarette. "Of Human Bondage" (1934) gave her critical acclaim and an Oscar nomination. However, many felt she was robbed when she did not win.. For her role in "Dangerous" in 1935, she did bring home the gold statuette; Bette always claimed the award was named after her husband at the time whose middle name was Oscar.
Photo of Spencer Tracy & Bette Davis at Oscars courtesy fanpop.com.
While Bette did have some juicy roles while at Universal, her contract expired and was not renewed. She then signed with Warner Brothers where her film career hit a slump. Bette moved to England to be loaned out to a British studio but Warner Bros. protested and sued her for breaching her contract. While the starlet lost the lawsuit, she did receive better roles upon her return to America including apart in "Jezebel" (1938) which won her a second Oscar. She also played an important role in "Now, Voyager" four years later.
One of the things that Bette Davis was most proud of was her role in organizing the Hollywood Canteen. She transformed an abandonned nightclub into a place to entertain the troops during the Second World War.
Photo of Hollywood Canteen courtesy 2.bp.blogspot.com.
After the war, the roles dried up for Miss Davis. However, in 1950, still as beautiful as ever, Bette starred in "All About Eve". Her husband Gary Merrill starred opposite her. It would be her last "sex siren" role.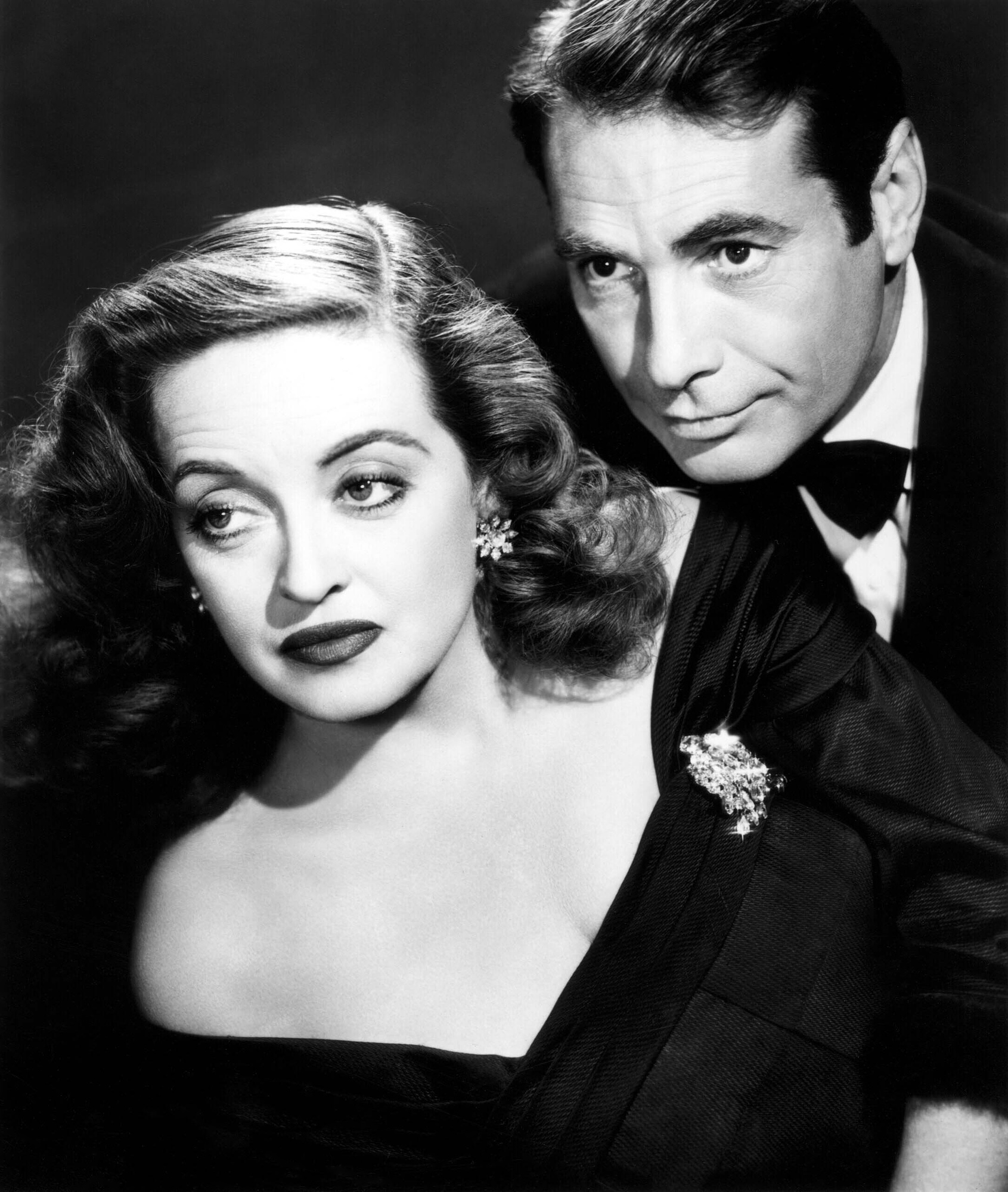 Photo courtesy www.doctormacro.com.
In 1962, Bette starred in "Baby Jane" opposite Joan Crawford. No longer a young beauty, she would now be known as a horror maven. While on the set the two Hollywood icons feuded constantly. Apparently Joan Crawford, the widow of a Pepsi CEO, loved the pop. Therefore, Bette had a Coca Cola machine installed in the studio. Miss Crawford, as revenge, put weights in her pockets when Miss Davis had to drag her across the set in one scene.
Photo courtesy wordpress.com.
Once again the roles dried up for Bette. She placed an add in the paper in the early 1960's saying:
"Mother of three -- 10, 11, 15 -- divorcee. American. Thirty years experience in motion picture. Mobile still and more affable than rumor would have it. Wants steady employment in Hollywood."
Bette Davis' last role was in 1987 in "The Whales of August'. At 75 years of age, she had a mastectomy due to breast cancer. She passed away in 1989 and is commemorated by a stamp issued in 2008.