"Come, Thomas, leave your shop while we have time. And let's take to the open road for strawberry days!" (John Burroughs)
There is a giant photo hanging from the ceiling at Henry Ford Museum in Dearborn, Michigan. It features four iconic men -- Henry Ford, with his piercing blue eyes, Thomas Edison with his dark, bushy eyebrows, Harvey Firestone, with his moustache and John Burroughs, with his flowing white beard -- lounging on an old mill wheel. The picture represented an oxymoron: here were four men, three of whom were millionaires, hanging out on a camping trip like regular guys. Here is the story of The Vagabonds.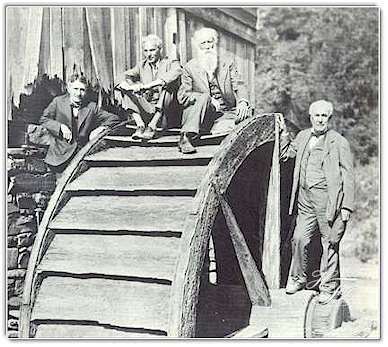 The old film reel circa 1918 features a caravan of six vehicles, two Fords, two Packards and two trucks, meandering down a dirt road. Inside are The Vagabonds: Ford, Edison and Firestone, all industrialists, and the naturalist, Burroughs. It's a "seize the day" type of trip as Burroughs writes in his letter to Edison: "Come, Thomas, leave your shop while we have time. And let's take to the open road for strawberry days!"
This is no regular camping trip, however. Inside the vehicles, The Vagabonds have packed enough supplies to outfit an army. The black and white film shows the industrialists, clothed in suits and ties, eating a hearty meal in a dining tent at a large round table, complete with a lazy susan.
The twelve day trip takes the caravan through six states: Pennsylvania, West Virginia, Tennessee, Virginia, North Carolina and Maryland. In Tennessee, they camped in the Great Smoky Mountains. There the Vagabonds partook in many adventures. The 81-year-old Burroughs, 71 year old Edison, 55 year old Ford and 50 year old Firestone engaged in rifle shooting, cradling contests (shearing wheat), tree-chopping, tree climbing and sprinting. Burroughs, the naturalist, won the tree chopping competition. Firestone and Ford seemed adept at the rifle shooting.
Back at the camp, the foursome built a gigantic campfire and engaged in heart to heart talks. The black and white film shows Ford leaning over and speaking directly into Edison's ear, likely because he was hard of hearing by this point. Likely the talk turned to business at some point, as Ford used to be employed by Edison at the Illumination Company. Firestone supplied Ford with tires for his Model T's.
But there is something refreshing about seeing the foursome convening with nature. Ford and Edison even bathed in the creeks that they hiked along. One black and white photograph shows Ford and Edison, straight razors in hand, shaving outside of their tents. At night time, the foursome retired, each in a separate tent marked with his name on it.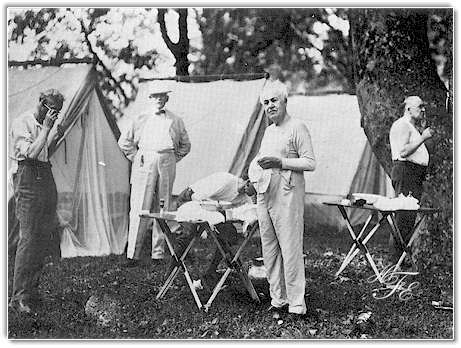 The camping trip, which became an annual exploration of the country, was inspired by a camping trip that the Ford and Edison families took to the Florida Everglades in 1914. The elderly Burroughs passed away in 1921, but the three other Vagabonds continued the tradition each year.