Frank Capra courtesy upload.wikimedia.org.
Three cardboard boxes were discovered in a closet in Mexico City in 2007. They would be called simply "The Mexican Suitcase". Their contents would tell the story of a vicious war.
Three photographers met in Paris in 1934: Robert Capa, Gerda Taro and David Seymour. They were at the cusp of a new style of wartime photojournalism -- photographers who dove into the centre of combat. And they did not have to wait long and travel far for that war. France's neighbour, Spain, broke out into civil war within two years. With their handheld cameras, Capa, Taro and Seymour roamed the spanish streets looking for subjects. Right-wing nationalists, armed by Hitler and Mussolini, were trying to unseat the government. Many Madrid buildings were reduced to rubble. Spaniards were left homeless. While the three photographers documented the bullets flying, they also captured film of everyday life in Madrid: a farmer taking in the harvest, a woman shopping, a child going to school.
The photographs would serve two purposes: they might be used as propaganda for the left-wing Spanish government; they might also be purchased by the European magazines. Capa entrusted the 4500 negatives they took with a friend, asking that he send them to the United States.
While wartime photography might have put food on the table for the three photographers, it also put them in harm's way. All three would die in a war zone: Taro was killed in 1937; Capa died in Indochina in 1954; and Seymour died in 1956 in Egypt.
In the meantime, the 4500 negatives disappeared for decades. In 1999, Cornell Capa, a descendent of Robert's, attempted to find the undevelopped photographs. It turned out that the negatives travelled from Spain to France and then on to Mexico with the Mexican ambassador in Paris. In Mexico City, they stayed hidden for years in a closet. Finally in 2007, the "Mexican suitcase" was dusted off and its contents revealed. The negatives were finally processed and eventually placed in a museum, bringing to life the Spanish Civil War decades after it ended.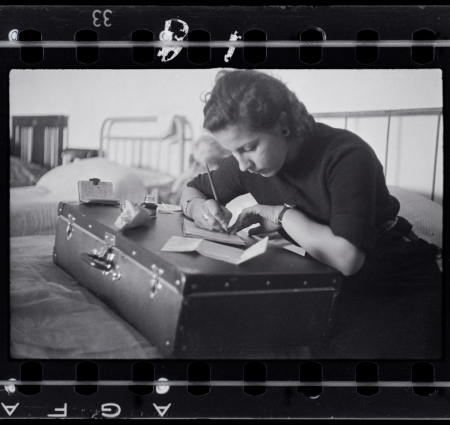 www.sansebastianfestival.com
Note: For more information, read
The Mexican Suitcase
by Cynthia Young. A film was also made about the subject.