Today we went to Disney World's Hollywood Studios. I pondered what to blog about: Grauman's Chinese Theatre Ride, Indiana Jones & The Temple of Doom Show, or the Back Lot Tour. After we saw the movie about Walt Disney's life, my daughter Jacqueline mentioned that she didn't realize that Walt Disney actually made his own films. She thought the Disney movie making started after his death. So, I had my topic. Blog about Walt's thirty years of movie magic. However, Mr. Disney's filmography is quite lengthy so I decided to blog about his very first movie,
Snow White and the Seven Dwarfs
.
Photo courtesy amazon.com.
Although Walt Disney started his career as a cartoonist, he was always willing to try new ventures. His motto was: "You don't know what you can do unless you try." So, in 1935, Walt decided to mortgage his house, despite the protests of his wife and his brother, to finance the making of his first feature full length animated film. Members of the film industry were calling the venture "Disney's folly". Afterall, up until that point, Walt had only made short films of Mickey Mouse and other characters. How could he hold the audience's attention for two hours?
But Walt was determined to make it happen. He took the original Snow White story written by the German brothers Grimm and he adapted it to the big screen. Then he recruited Art Babbitt and a large group of artists at Disney Studios and they set to work making sketches and story boards. He also recruited some first rate musicians to write the score for the movie.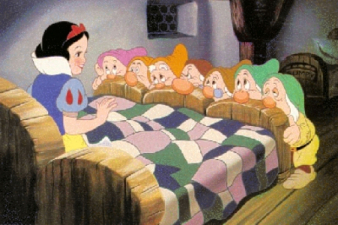 Photo courtesy animatedviews.com.
After several months, Walt had exhausted all of his budget. So he turned to Mr. Rosenburg at Bank of America and begged for another loan. Mr. Rosenburg requested seeing the finished product and Mr. Disney obliged. The bank manager got to see a hodge podge of footage interspersed with sketches for scenes that had not yet been shot. Walt sweated it out as Mr. Rosenburg studied the film. Convinced that he would say no, Walt waited anxiously for his response: Mr. Rosenburg shook his hand and declared: "This movie is going to make a hatful of money." And that is how Walt Disney mortgaged his house to complete his film. In the end the film cost 1, 488, 422, an unprecedented budget.
Photo courteys latimesphoto.file.wordpress.com.
On December 21, 1934, Snow White and the Seven Dwarfs debuted at the Carthay Circle Theater in Los Angeles. Sitting in the plush seats were the likes of Judy Garland and Marlene Dietrich as well as several movie critics. The audience watched in horror as the evil queen plotted to have her step-daughter murdered. They breathed a sigh of relief when she escaped and was sheltered by the seven dwarfs. And they cheered when the prince awakened her with a kiss after she ate the poisonous apple. When the curtain lowered, the audience rose to its feet to give the movie a standing ovation.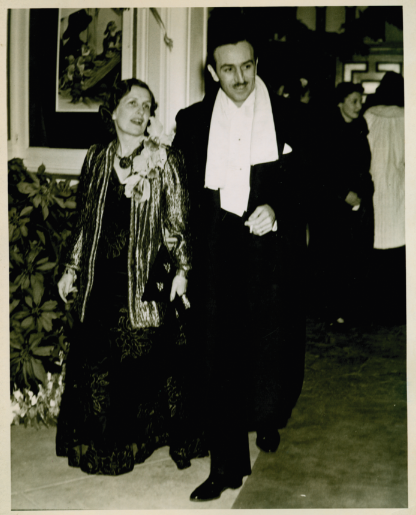 Photo courtesy www.waltdisney.org.
The movie was an immediate box office success, first in America and later all over the world. In the end it grossed $416 million, a hefty sum in the 1930's. Walt received an honorary Oscar along with seven miniature Oscars for his dwarfs; they ended up on the cover of Time magazine. The musical score received an Oscar nomination with such hits as "Heigh Ho" and "Some Day My Prince Will Come". The latter became a jazz standard played by the likes of Buddy Rich, Oscar Peterson and Miles Davis. Radio City Music Hall booked the rights to the story sight unseen.
Walt Disney not only paid off his loan to the Bank of America, but he was able to build a much bigger studio in Burbank with the profits from Snow White. He went on to make dozens of other animated films. Disney's folly would be rated the number 1 animated film of all time by the American Film Institute.