Unisphere courtesy en.wikipedia.org.
A group of New York City businessmen, with fond memories of the 1939 World's Fair, decided to recreate it in 1964. Set on an old garbage dump in Queens, the fairgrounds composed 646 acres of land. The centre of the exhibit was the Unisphere, a 12 story high structure donated by US Steel. While attendance totaled over 50 million in the fair's 12 month run, it still fell short of their 70 million goal, resulting in huge financial losses. The fair did leave a legacy, however, including the Ford Mustang.
Walt Disney participated in four exhibits at the 1964 World's Fair. "Pepsi Presents Walt Disney's It's a Small World: A Salute to UNICEF" was a roaring success. The exhibit was later reassembled at Disney World.
cheapflights.com
General Electric co-hosted an exhibit with Disney called "Progressland". The Sherman brothers wrote the signature song for the show called "It's a Great Big Beautiful Tomorrow". The well attended Carousel of Progress was reassembled at Disneyland and later, Disney World, where it still operates today.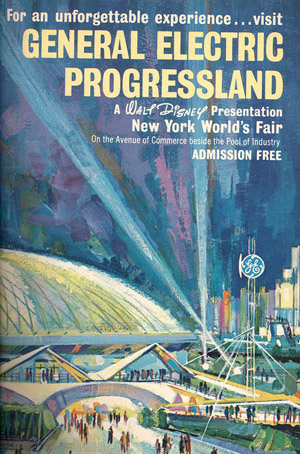 "Great Moments with Mr. Lincoln" was another successful Disney production. It was later reassembled at Disney World as The Hall of Presidents.
Walt Disney also co-hosted the Magic Skyway with the Ford Motor Company. The Skyway exhibit inspired the People Mover at Disney World.
Ford's Magic Skyway courtesy randytreadway.com.