This is the day we used to visit my Grandma and Grandad Tufts' house in Toronto to celebrate Christmas. My aunt, uncle and cousins from Ottawa would join us there. We always looked forward to certain traditions. In the early years, Grandma would cook the turkey, but when it became too much for her, we went out for dinner. In the early 1980's we went to the old Leaside Station Restaurant. Later, we dined at Mother Tucker's and other Toronto eateries.
Grandma's serving tray was similar to this one, but with squared edges rather than rounded ones. Photo courtesy
cloudfront.net
.
After dinner, we would head back to their brick bungalow on Lankin Boulevard in East York where Grandma had prepared treats. She always set out a green glass bowl filled with potato chips along with a matching dip bowl. She also prepared 13 different kinds of Christmas cookies stacked on a triple-tiered silver tray: shortbread, Sweet Marie bars, date pinwheels -- you name it, she made it.
Beside the fireplace in the rec room sat a miniature Christmas tree, lit up with tiny lights, under which sat gifts for the children and grandchildren. We also brought presents for Grandma, which she tore into, and Grandad, which he carefully opened with a paring knife.
After we opened our gifts (although Grandad was still working away on his first one), Grandma would turn off the lights and treat us to a slide show. For anyone under 30 years old, that's a series of photographs set in cardboard frames, placed into a round tray, and projected onto a screen using a projector. Grandma would poke fun at herself and her family -- she was the only one who could get away with ribbing my dad. Grandad would let out an infectious belly laugh with each joke.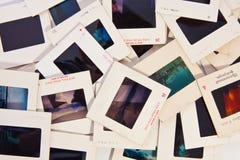 Slides courtesy
dreamstime.com
.
After the slideshow, Grandad would treat us to a rendition of Danny Boy or another song on the upright piano. On top of the piano, sat a wedding photograph of my parents, young and in love, my mom in her white satin gown and matching gloves, my dad looking dapper in his suit and tie. Opposite their photograph, was one of my aunt and uncle, on their wedding day the following year. My aunt wore a beautiful gown and sparkling tiara, my uncle, a dark suit and thin black tie.
It has been 17 years since Grandad passed away, 21 years for Grandma. I miss the bungalow. I miss the green glass chip bowl...the tiered silver tray...the miniature Christmas tree. I miss Grandma's wit and Grandad's infectious laugh. Merry Christmas, Grandma and Grandad!