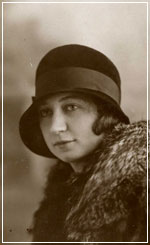 A young Miep Gies courtesy miepgiesbeginjaren30.jpg.
"I am not a hero. I stand at the end of a long, long line of good Dutch people who did what I did and more - much more -- during those dark and terrible times..."
Born to working class Catholics in Vienna, Austria on February 15, 1909, Hermine Santrouschitz encountered poverty early on in life. At 8 years old, due to a post World War I food shortage, Hermine was sent to live with a foster family in the Netherlands. Intending only on staying for a year, she faced some health issues and ended up staying with the foster family permanently. Her new family nicknamed her Miep.
In 1933, Miep was hired by Otto Frank as an office assistant at his pectin factory in Amsterdam. She was a loyal employee. In the meantime she started dating a Dutchman named Jan Gies. Life was good.
World War II came to Holland in the Spring of 1940. Miep was disturbed at how the Nazis were treating the Jews. Each day, she would see truckloads of Jews heading towards the Amsterdam train station to be deported to concentration camps. Though she was not a Jew, the authorities threatened to deport her to her home country. Miep hastily married her longtime beau Jan thereby making her eligible for Dutch citizenship.
Photo of the Secret Annex (to the right of the peaked roof) on Prinsengracht canal #263 courtesy cpgthegreat.blogspot.com.
In July of 1942, Mr. Frank's daughter Margot, was given orders to report to the authorities the following day. The Frank family hastily packed their belongings and hid in an annex behind Otto's offices. Miep and her new husband Jan agreed to keep their hiding place a secret. While Jan provided Miep with illegal ration cards, she would shop for groceries for the Frank's, making sure she visited several shopkeepers so as not to arouse suspicion. Miep would only carry one shopping bag at any given time and she made sure that she visited the annex only after business hours so that the office building's employees would not be alerted. Besides the Frank's, there were also Mr. and Mrs. Van Pels and their son Peter to be fed as well. Later, Miep and Jan arranged for their dentist Fritz Pfeffer to join the others in the annex. One night, just to see what the families were experiencing, Miep and Jan spent the night in the annex. Otto's daughter, Anne, had started a journal documenting everything that happened behind in the annex.
Photo of the bookcase which hid the entrance to the Secret Annex courtesy mrmccormick.weebly.com.
During the entire 25 months of hiding, Miep never divulged her secret to anyone. But someone else did: on August 4, 1944, Nazi authorities found the location of the Frank's, Van Pels' and Mr. Pfeffer and arrested them. Miep's life was spared, however, as one of the arresting officers was a Native Viennese like Miep. The following day, she tried to bribe the arresting officer with money, but to no avail. Miep watched helplessly as her friends were carted away, the men to Auschwitz, the women to Bergen-Belsen. Miep tucked away some of the Frank's belongings including Anne's diary, hoping that she could return it to its rightful owner when the war ended.
The Frank family in happier times courtesy miepgies.ni.
Sadly, none of the refugees survived the war except Otto. He returned in 1945 and resided for a short time with Miep. She handed over Anne's diary which she had refused to read out of respect for the young teenager. In 1947, Otto had it published as
Het Achterhuis
(Rear Annex). Later it was published in English as
Anne Frank: The Diary of a Young Girl
and sold millions of copies (see my blog post titled "How the Red and White Checkered Journal Became a Bestseller" dated August 4, 2012).
Miep lived out the rest of her years in relative obscurity. She and Jan had one child. Jan passed away in 1993. Miep passed away at 100 years old on January 11, 2010.