Here are ten things you may not know about Ellis Island:
1. Ellis Island was originally called Gibbet Island after a gang of pirates was hung by gibbets (aka gallows) there.
2. Officials posed 29 questions to the immigrants which they had to answer correctly.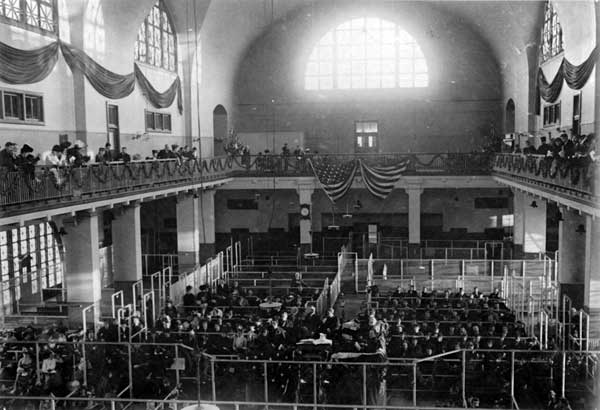 3. Two percent of immigrants were turned down due to disease, criminal records or other undesirable responses.
Undesirables awaiting deportation courtesy
4. The immigration station dining room was capable of housing 1,000 people at a time.
5. The immigration station processed its last group of immigrants on November 12, 1954.
An endless queue circa 1892 courtesy
6. During World War I, with immigration at an all time low, Ellis Island was used as a way station for the U.S. Army and Navy.
7. A kitchen fire in 1897 destroyed the entire immigration station, originally built of wood. A new brick structure was opened in 1900.
8. At its peak in 1907, a record 1.25 million immigrants were processed. In a single day, 11, 747 immigrants were processed.
Immigrants arrive at Ellis Island circa 1908 courtesy
9. A total of 11,000 Germans and German-Americans were detained during the Second World War, some at Ellis Island.
10. Lee Iacocca spearheaded a fundraising campaign to restore both Ellis Island and the Statue of Liberty. The former was reopened to the public in 1990 and now receives about 3 million visitors per year.