My daughter and I arrived late at Rob's cousin's house for the World Cup final. Giant black, red and gold flags with the eagle in the middle decorated the backyard fence. A gathering of adults hovered over the two giant TV sets, some chattering, some silent, too nervous to say anything. Children jumped in and out of the swimming pool, splashing the adults as they did so. Even the dog, a Labrador Retriever, got in on the act, doggy paddling his way across the pool to retrieve the soccer ball. Soon Jacqueline joined her cousin Kirstin in the pool and I joined Rob, my son Thomas and my brother Bill, by the television.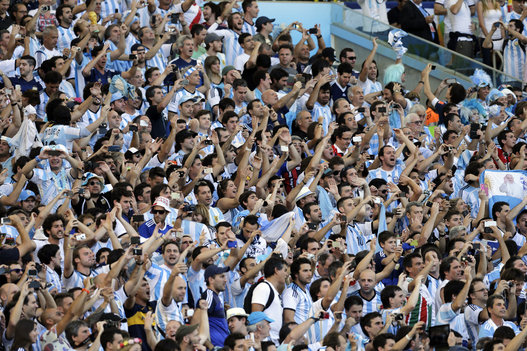 I hadn't missed much. The score was 0 - 0. Now the match was in overtime. We watched as a sea of blue and white striped shirts cheered. We watched the white shirted players pass the ball back and forth, head it and block it. Any attempt the blue shirted players made to put the ball in their opponent's net was stopped by a green giant. Rob sat on the edge of his seat. It had been 24 years since Germany won the World Cup. It was 1990, the year I met Rob. Someone had taken a picture of Rob in his parents' living room, wearing a white sweatshirt with the red, black and gold stripes, and lifting his hand in the air with his index finger raised.
Was it time for Rob to raise his hand in the air again? Rob was oblivious to everything around him. Jacqueline and Kirstin giggled as they planned to cannonball into the pool. Another dog challenged the Labrador Retriever for attention. Women chatted on the steps of the wooden deck. Men poured themselves drinks at the thatched roof bar. Two teenagers texted in the corner. The crowd seamed to a fallen into a state of disinterest. Only the diehards remained glued to the set.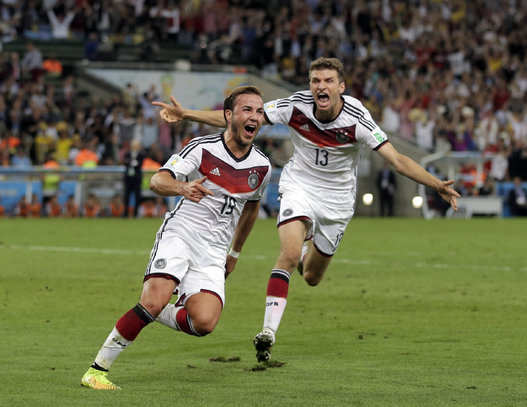 And then it happened. Youngster Schurrle raced down the pitch, his legs pumping...a pass to fellow youngster Goetze... a quick kick into the corner and voila. I thought maybe i was seeing things. But no, Rob jumped up and screamed so loud, all of Brantford could hear him. His cousins grabbed him in a bear hug. A series of high-fives scattered through the crowd like the wave. Kirstin and Jacqueline screamed from the swimming pool. One of the dogs barked.
The remaining minutes ticked by. Argentina had a couple of chances, but nothing materialized. The victory belonged to Germany. The players marched up the steps and claimed their gold medals, bringing their World Cup total to four. Only Brazil, with five, has more. Captain Phillip Lam hoisted the trophy, which looks like a giant gold ice cream cone, high into the air. Rob and his German-born brother-in-law Armin broke into a rendition of "Deutschland, Deutschland Uber Alles". What an unforgettable moment!