Image courtesy wordpress.com.
It was on this date 101 years ago that the Titanic hit an iceberg and slowly sank. In the early morning hours, journalists scrambled for information on the ocean liner's status. In the midst of conflicting accounts, some reporters opted for the more positive outcome. Here are ten mistaken headlines from that fateful day.
1. "Disabled Ship Under Tow After Hitting Iceberg" (The World)
2. "Passengers Safely Moved and Steamer Titanic Taken in Tow (Christian Science Monitor)
3. "Passengers From Titanic Rescued: Carpathia Takes on Many Boatloads" (The Evening Standard)
4. "Titanic Sunk. No Lives Lost. Collision with Iceberg." (London Daily Mail)
5. "Liner Titanic Kept Afloat by Watertight Compartments; Being Towed Into Halifax, Nova Scotia" (Washington Times)
6. "Liner Titanic Wrecked By Iceberg; Passengers Transferred to Other Vessels Mid-Ocean; Wireless Saves 2000 Passengers & crew
7. "Titanic's Passengers All Rescued" (The Syracuse Herald)
8. "Not One Lost" (Decatur Daily Review)
9. "Held Afloat by Waterproof Compartments...Titanic Slowly crawling Toward This Harbour" (Halifax newspaper)
10. "Everyone Safe...Helpless Liner Being Towed to Port by Allan Liner" (The Daily Mirror)
The sad reality was that about 1500 people died on that night. Relatives who waited anxiously at the New York pier for the Carpathia to dock.hoped against hoped that they would find their loved ones, but many heard shocking news when the rescue ship arrived.
Note: For more information on the Titanic read my blog posts "The Unused Ticket to the Titanic" (Sept. 11, 2011) and "Ten Things You Didn't Know about the Titanic" (May 20, 2012).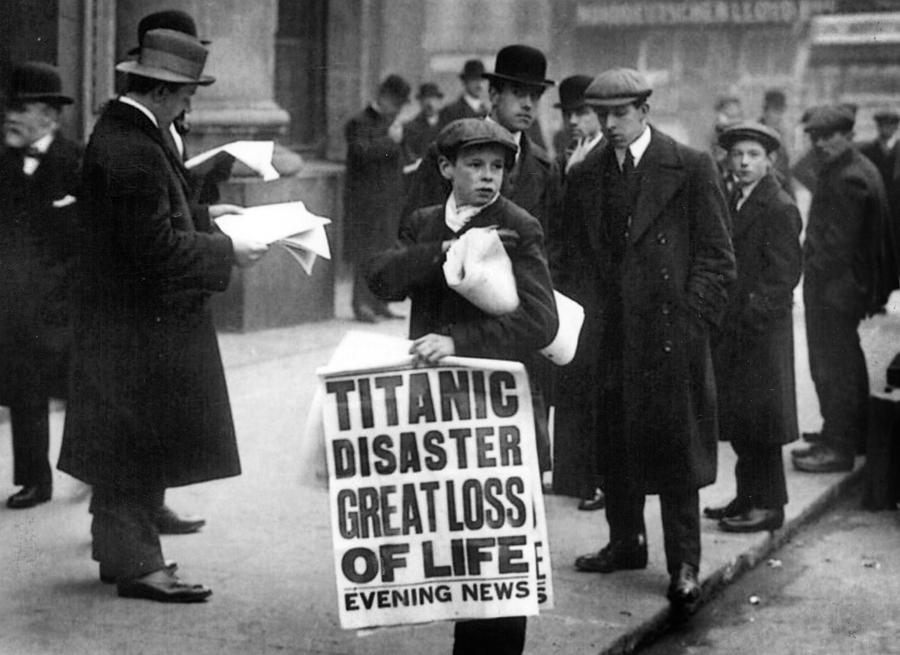 Photo courtesy images.fineartamerica.com.