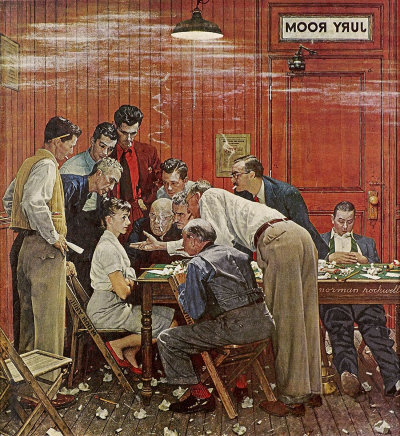 Twelve individuals gather in a wood panelled room. A lamp hangs above them. Cigarette smoke lingers in the air, but not as thick as the tension. Eleven men stare at the lone holdout, a woman, who prevents the jury from reaching a unanimous verdict. Her body languages shows, however, that she is not easily persuaded. Her duty is to vote her conscience.
Norman Rockwell's painting,
The Jury
, which first appeared on the cover of
The Saturday Evening Post
on February 14, 1959, may have been inspired by the major motion picture
Twelve Angry Men
which debuted in 1957. The movie, which starred Henry Fonda as the foreman, featured a hung jury. Eleven members were ready to hang the accused; however, the twelfth just couldn't bring himself to convict him. One by one, after much deliberation, the eleven members come to the same conclusion. The entire movie is filmed in one room, much like a play. In fact, Reginald Rose wrote the original play back in 1954 for a CBS anthology television series.